Junk Pickup at Your Home or Business
Regardless of the scope of your junk hauling needs, we have the right size truck (or trucks) to handle it. And we have a highly trained and experienced crew to staff the job. Plus, we have the necessary tools and equipment—which include dollies, shovels, rakes, brooms, lifting aids, and various pads, to name a few.
When we arrive at your home for the junk pickup, we will have gear and equipment to protect the floors, walls, and other furniture. It won't take us long for the junk removal and truck loading. And we will be sure to leave the pathways and loading area as we found it.
The #1 Junk Removal Team in Sarasota County, FL
We Clear The Junk – You Reclaim Your Space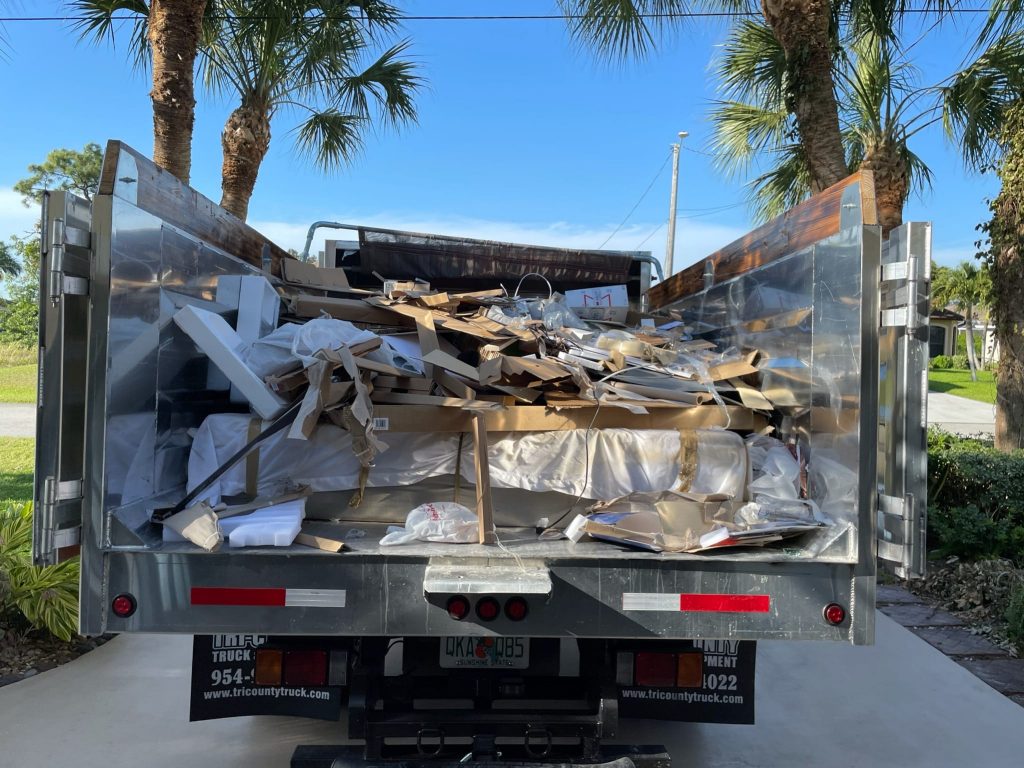 Junk Removal Services
With our junk removal services, please don't ask us what we take. Ask us what we don't take! That's how comprehensive our professional junk removal services are.
Contact Us
Furniture Removal
Do you know anyone who doesn't have old, broken, or worn-out furniture around their homes? Do they say they're saving it to repair for their kids when they move out? Or, waiting to give it a DIY makeover to brighten the space?
We know better, and so should you. That furniture is never going anywhere; it's just eating up valuable living space. There's that tarnished old lamp from your grandparents' house. The armchair that the cats have ruined. And what about that kitchen table that's missing a leg?
Heavy furniture like office desks, armoires, dressers, and sofas are no problem for us. And we'll even take away your old mattress and box springs.
Remodel and Construction Waste
Any good home contractors should leave your house sparkling clean, with all the debris thrown in a dumpster when they finish a job. But what about those DIY projects you were so excited about. Until you got started, that is. If you're like most people, we'll bet you have some lumber of drywall panels with inaccurate cuts lying around waiting for a good use.
What would that use be? Another DIY, like a decorative but non-functional three-legged stool, made from wood scraps? And then, there's the drywall—that isn't holding up all that well. And it might have mold too.
We get rid of glass, heavy stone, roofing materials, and other materials you no longer need. You can wait and toss it all when you're ready. Or let us put it out of sight and out of mind for you right now.
Appliance Removal
No one feels sentimental about old, worn-out appliances. But they sometimes do want to squeeze the last bit of functional life out of them before replacement. Let's face it. That time is now—and for some very good reasons!
Old appliances are energy hogs. Replace them, and you could see some significant savings on your utility bill. Besides, marginally functional appliances like ranges, refrigerator/freezer combos, and others could pose risks to you and your household. These include fraying electrical cords, small gas leaks, and temperatures not cool enough to keep food safe.
When we put those monsters on our truck, you can breathe a huge sigh of relief!
Entire Property Clean-outs
We have helped clean foreclosed homes and vacated apartments. We have done retirement home clean-outs and emptied 20,000 square-foot commercial buildings. Do you have any major projects that rival these? If so, bring them to us. We love new challenges!
You also might have delicate personal situations to deal with too. Have you recently helped sort out a hoarder house? Have aging parents getting ready to sell the expansive family home after decades of living—and accumulating stuff—there? Or has a close friend or family member passed away unexpectedly with a home badly in need of cleaning and junk removal?
We understand the emotional impact of situations like these and will do everything we can to make the clean-out process go as smoothly as possible. Do you know that we'll even empty any drawers and cupboards for you? It's our job to ease your burden.
Whatever your situation, we're there for you!
A Professional and Reliable Junk Removal Team
When you hire a junk removal team, you want to know that you're working with a team that can get you taken care of. After all, you don't want to have to worry about those unsightly materials on your property anymore. When you hire Sarasota Junk Removal, you know that we'll help you get rid of all unwanted furniture, appliances, construction waste and more on your property. And, we always get the job done within the agreed-upon timeframe.
What's more, we're a highly professional team. Giving us a call means being greeted by a friendly and attentive staff member. Our goal is to make sure that we get your junk cleared off your property so that you can start enjoying your new furniture or your newly opened space. With us, you're getting professional services that you can count on to get you taken care of.
On top of that, we have specialized knowledge of local disposal regulations. When you work with us, you know that we're disposing of your old junk properly including repurposing if it is an option. By working with us, you steer clear of any risks and make sure that your waste is going where it should!
Step One: Reach Out to Our Team
To get started removing junk items that you no longer need or want, all you need to do is reach out to our team. We're available by phone, email, or contact form. That way, you're able to speak with us in whatever way is most convenient. No matter how you choose to get in touch, we'll help you set up a time for us to remove your unwanted items.
Step Two: Get a FREE Quote for Services
Next, our team will gather more information about how much you're wanting to remove as well as the size and weight of it. We might ask you for measurements so that we know exactly what tools we'll need to bring in order to get it cleared out of your space. From there, we'll put together a 100% free quote for services.
Step Three: Junk Removal
After a price is determined, it's time for us to head to your home and get rid of your furniture. Our team works quickly and efficiently to remove every unwanted item from the home. From there, we load it into our track and get it cleared out of your spaces for you. We handle the disposal of your unwanted junk so that you don't have to worry about it!
We're Your First Choice for Junk Removal in Sarasota County, Florida
When Sarasota County locals need help removing unwanted junk, they know that they can count on the experts at Sarasota Junk Removal. That's because we've been helping homeowners and business owners alike to remove the clutter they no longer need for decades.
On top of that, our excellent track record means that residents know we're a reliable team. They can count on us to not only get the job done but to get it done right. Get in touch with our team and set up a time for our experts to come and clear out your unwanted junk items. We guarantee you won't be disappointed.
At Sarasota Junk Removal, we believe in finishing what we started. We'll never leave a job site until the job is completely done. That means that when we head to your home, you know that we'll end the day with the furniture you need to get rid of out of your spaces.
We also offer you a safety guarantee. That means that you know that no furniture or belongings will be damaged during the removal process. Our team takes extra precautions to move any furniture that was rearranged back into place after the removal. That way, we leave your home looking just as it did when we started –– just without the presence of the unwanted junk!
Sarasota Junk Removal is committed to providing customers with low-cost junk removal services. We're here to ensure that all of our clients can get their items removed from their spaces without having to break the bank. That's why we offer some of the lowest rates in the business.
Our team is constantly running specials, too. That way, we can help you save even more money on your junk removal services! We'll let you know of any savings or coupons that you can take advantage of. After all, we're here to help make sure you get your furniture out of your home at the best possible price.
Free Up Space and Remove Excess Junk You Don't Need
Are you ready to give your home more space? Are you excited about getting rid of unseemly furniture or items that you simply don't use? We're ready to help!
Give our team a call, fill out our contact form, or send us an email and we'll get to work putting together a quote for your junk removal services.
Together, let's help you free up space and rid yourself of unwanted clutter.