What Is Estate Cleanout?
Estate cleanout is a bit more involved than a typical junk removal service. If you are emptying the home of a loved one who has passed, we understand that there are some items you might wish to save and many more that you'd like to recycle to ensure that your loved one's beloved items are passed on to people who need them. That is why we are committed to patient, careful and conscientious service to ensure that we only get rid of the items you truly wish to remove. 
However, estate cleanout is not just for inherited properties. It can include clearing out any space for any purpose. If you need condo cleanout, apartment cleanout, or full-home cleanout, we are here to help. 
We Make Cleaning Out Your Property a Breeze
If you have a room or entire property that needs to be wiped clean, you'll want to call in the professionals. The team at Sarasota Junk Removal is here to save you time and money on the most challenging jobs, so you can get back to using your property quickly. We clean out homes, condos, apartments, nursing home rooms, hospice rooms, and more. Contact us today to get an upfront and honest price.
The #1 Furniture Removal Team in Sarasota County, FL
Let's Make This Easy.  Say Goodbye To Junk Furniture.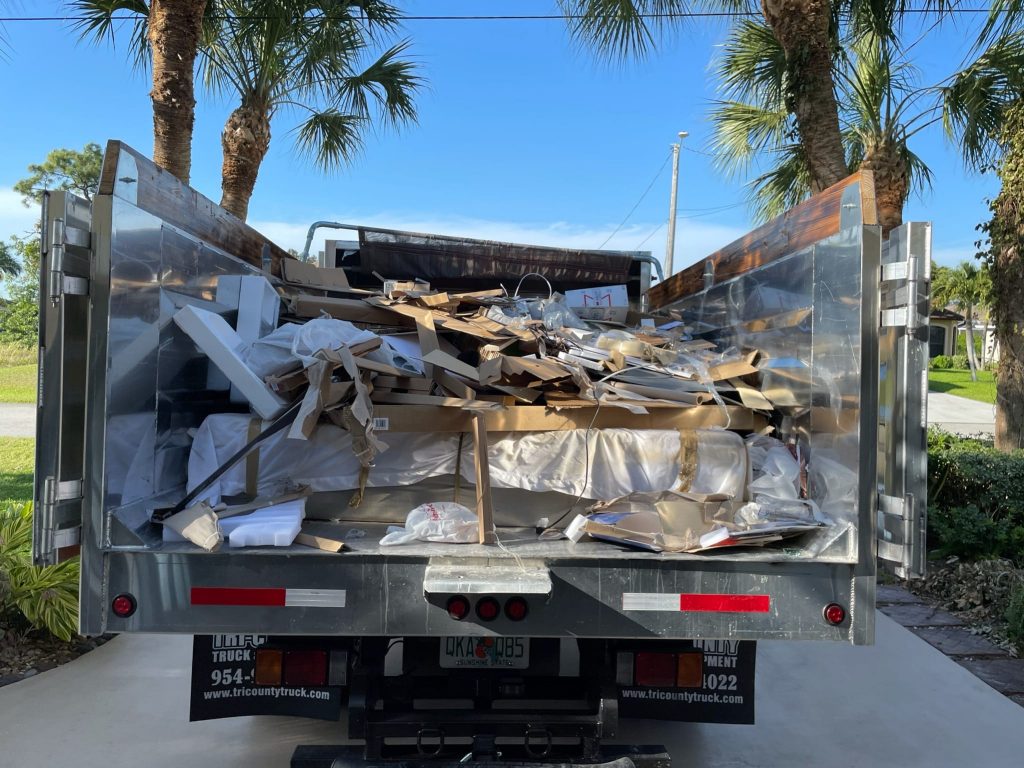 When to Call a Professional Junk Removal Company
If you have a large amount of junk to remove, an estate cleanup company can be an excellent and affordable alternative to hiring a dumpster. We do both commercial and residential cleanups. Learn more about our services.  
Contact Us
Large Item Removal from a Fully Furnished Home
Did you buy a house that you love, but it came with furniture that isn't your style? We remove that furniture and recycle it. We'll help that old furniture find someone who will love it as much as you love your new home.
Renovating Your Home
If you need to clear out space for a home remodel and want to get rid of old furniture, we can help. Our team also removes construction debris once the project is underway.
Full House Clean Outs After a Quick Move
If you had to move immediately for a new job or due to emergency circumstances but didn't have time to clean out your house, condo, or apartment, we can help. Our team is fast and may be able to come the day that you call so that you can list your home right away.
Evict a Renter
If you had to remove a tenant from your investment property, but they left their junk behind, give us a call. We will get in and out fast so you can freshen up the place and find a more reliable tenant quickly. 
Clean Out a Property That You Inherited
We understand that it can be challenging to throw away your relative's belongings, but you may not have the space for their larger items. If a loved one has recently passed and you aren't able to clean out their old home or are overwhelmed by the task, give us a call.
Hospice Cleanout or Retirement Home Cleanout
If your loved one spent a long period of time in a retirement home or under hospice care, you might be responsible for cleaning it out after they no longer need the space. We provide compassionate service during this difficult time.
Why Choose a Professional Instead of Doing It Yourself?
If you have a large space, you might be tempted to save yourself a bit of money by doing the job yourself, but the truth is that DIY junk removal typically isn't that cost-efficient. In most cases, you will need a dumpster to empty an entire room or home. You pay by the size of the dumpster and the time you are renting it, which means you can be paying for space you don't need, or you may need to rent a second dumpster, wasting even more time and money.
We can offer competitive pricing compared to dumpster rental because we remove junk quickly, typically in a day or less. That means we don't have to charge you for the time a dumpster is sitting in your driveway, taking up space. Because we remove your items right away, you never have to worry about extending a dumpster rental and paying even more money to get rid of your stuff. Get the job done right the first time with our professional junk removal services.
Step One: Reach Out to Our Team
Give us a call to schedule your estimate today. We will come out as soon as possible to give you an upfront price for your estate cleanup with no hidden fees or surprises.
Step Two: Enjoy Friendly, Fast Service
Our team is highly trained and experienced. This ensures that your job is completed in a timely and efficient manner. We do everything we can to make sure we don't disturb you or your neighbors.
Step Three: Utilize Your Space
Once your job is complete, you'll be free to sell, rent or enjoy your space. Schedule your quote today to find out how amazing it will feel the have all that excess stuff gone. The possibilities are endless when you choose the right estate cleanup company.
We Clean Any Home Regardless of Size or Condition
No job is too big or small for the highly trained experts at Sarasota. We own the largest junk removal vehicles in the area so you can be sure all of your unwanted items will fit. Because we are a full-service junk removal company, we have experience handling even the toughest jobs and are equipped with the tools to manage even the heaviest furniture in the tightest spaces. If a loved one, previous homeowner, or former tenant got it into the home, we'll have no problem getting it out without damaging your property. 
Why Choose Sarasota Junk Removal?
At Sarasota Junk removal, we are committed to providing you with the absolute best service possible. We are proud to offer the industry's largest trucks so we can get your job done in as few trips as possible. This is especially important when you are dealing with an entire home cleanout. Because we do both commercial and residential jobs, we have the tools needs to tackle complex projects, and we adhere to the most stringent safety procedures. Give us a call to find out what makes us the most trusted estate cleanup services in the Sarasota area and beyond. 
At Sarasota Junk Removal, we believe in finishing what we started. We'll never leave a job site until the job is completely done. That means that when we head to your home, you know that we'll end the day with the furniture you need to get rid of out of your spaces.
We also offer you a safety guarantee. That means that you know that no other furniture or belongings will be damaged during the removal process. Our team takes extra precautions to move any furniture that was rearranged back into place after the removal. That way, we leave your home looking just as it did when we started –– just without the presence of the unwanted furnishings!
How Much Do Our Estate Cleanout Services Cost?
Sarasota Junk Removal is committed to providing customers with low-cost junk removal services. We're here to ensure that all of our clients can get their items removed from their spaces without having to break the bank. That's why we offer some of the lowest rates in the business.
Our team is constantly running specials, too. That way, we can help you save even more money on your junk removal services! We'll let you know of any savings or coupons that you can take advantage of. After all, we're here to help make sure you get your furniture out of your home at the best possible price.
Enjoy Professional Estate Cleanout Services in Sarasota Today
If you have a space that needs to be cleaned out entirely, we are here to help. Call us today the get the best estate cleanout service Sarasota has to offer or ask about all the other junk removal services we offer.