Out With The Old, In With The New
Whether you just moved into a new home or you are simply looking to do an appliance upgrade, Sarasota Junk Removal can haul away your old appliances and dispose of them safely. We understand that removing appliances may be a daunting task, especially given the size of such items as refrigerators, washers/dryers, dishwashers, etc. No matter the appliance, size, or location in your house, our licensed professionals can remove your appliances with ease to make way for your new, state-of-the-art appliance upgrades. 
Sarasota Junk Removal has been a proud local source of qualified appliance removal for years. We are a trusted name, used and recommended by many Sarasota residents. Please contact our team today to receive a free quote on removing and disposing of your old appliances!
The #1 Junk Removal Team in Sarasota County, FL
Old Appliance Removal – The Easy Way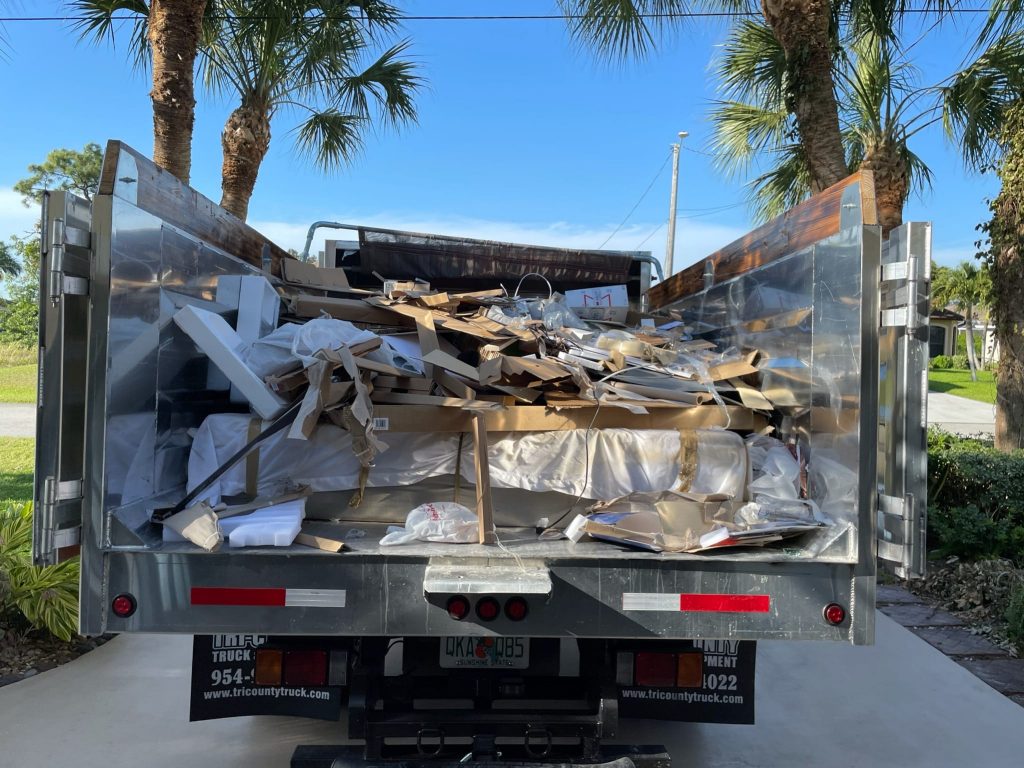 We Can Remove Any Appliance
Appliances come in all shapes and sizes. Some may be more difficult to remove than others. Depending on where you have appliances in your home, they can be particularly difficult to remove from the home. Luckily for you, our team of appliance removal experts has the experience and tools necessary to get into any nook or cranny to safely remove your appliances without damaging them or damaging your home in the process. 
Contact Us
Washers/Dryers
Washers and Dryers are some of those appliances that can drastically change in size, weight, and location. They also require the safe disconnecting of water and power. Whether you have side-by-side units or stackable, Sarasota Junk Removal can get into your garage, laundry room, or wherever else in the house they are stored so safely extract them and put them on our truck for disposal.
Dishwashers
Many new homeowners move into a home with dated appliances. Why settle for that antique dishwasher setup when you can have a nicer, newer dishwasher unit? Perhaps you would like to get rid of a dishwasher altogether to make room for extending cabinets? Or making a pull-out garbage slot? Whatever your design aspirations, we can help you take that first step of disposing of your unsightly or outdated dishwasher unit.
Refrigerators
Refrigerators are among the largest appliances on the market. The size scale goes from mini-fridge all the way up to units exceeding 6 ft. with multiple doors, freezer compartments, wine chillers, and more. Refrigerators are also typically the heaviest appliances in a home. Most modern units include screens on the door, adding even more weight to an already heavy object. Don't risk injury or damaging your home! Contact Sarasota Junk Removal to allow us to use our professional-grade equipment to remove any refrigerator units you have in the home.
Ovens
Sarasota Junk Removal can assist with removing your gas or electric oven or stovetop from your property. We can handle the safe disconnection of gas (if present) to prevent any gas-related incidents. Once we remove the item, we will ensure your gas connection is set up to where your home and its residents are
A Professional and Reliable Junk Removal Team
When you hire a junk removal team, you want to know that you're working with a team that can get you taken care of. After all, you don't want to have to worry about those unsightly materials on your property anymore. When you hire Sarasota Junk Removal, you know that we'll help you get rid of all unwanted furniture, appliances, construction waste and more on your property. And, we always get the job done within the agreed-upon timeframe.
What's more, we're a highly professional team. Giving us a call means being greeted by a friendly and attentive staff member. Our goal is to make sure that we get your junk cleared off your property so that you can start enjoying your new furniture or your newly opened space. With us, you're getting professional services that you can count on to get you taken care of.
On top of that, we have specialized knowledge of local disposal regulations. When you work with us, you know that we're disposing of your old junk properly including repurposing if it is an option. By working with us, you steer clear of any risks and make sure that your waste is going where it should!
Contact Our Team
The first step in setting up our quality removal and disposal services is to reach out to our team. You can call us at (941) 500-3066 to speak with one of our knowledgeable staff members. You also have the option of contacting us via email or contact form (you can find the form below!). Our staff can answer any questions you may have and work with finding the perfect time slot for our crew to come out and haul away your appliances. 
Get A FREE Quote For Appliance Removal Service
When you speak with one of our team members, we will gather information about how many appliances you need to be removed and the size/weight of each item. You may be asked to provide measurements so that we can prepare in terms of identifying which tools and equipment we will need. We will also determine how best to remove the items from your home based on the layout and any stairs or levels. All of this information helps us to determine the scale of the job, including how many team members to bring, and how long the job will take to complete. Once we have all this information, we can prepare a free quote on pricing so that you can make an informed decision on hiring us. Please also understand that our quotes are non-commital. You are not locked into a job just be receiving a quote. 
Appliance Removal
Once we agree on a price we will schedule an appointment window that fits your day-to-day. Our crew will give you a courtesy notice when your appointment window is getting closer. Once we arrive at the property, our crew works quickly and efficiently to remove the appliances from your home, load them up on our truck, and on their way to disposal. Take the hassle out of worrying about disposal – we take care of that for you!
Work With The Best Team In The Business
When Sarasota County locals need help removing unwanted junk, they know that they can count on the experts at Sarasota Junk Removal. That's because we've been helping homeowners and business owners alike to remove the clutter they no longer need for decades.
On top of that, our excellent track record means that residents know we're a reliable team. They can count on us to not only get the job done but to get it done right. Get in touch with our team and set up a time for our experts to come and clear out your unwanted junk items. We guarantee you won't be disappointed.
Sarasota Junk Removal Guarantee
Sarasota Junk Removal is 100% committed to customer satisfaction. There is a reason we are one of the most trusted appliance, furniture, and junk removal companies in the area. Our satisfaction guarantee means we will not leave a job until the customer is happy with our work. If it takes multiple trips to haul away your appliances, we will be there until the job is complete. 
Another component of our satisfaction guarantee involves safety and protection. We take every precaution to ensure that no other furniture or items will be damaged during our appliance removal process. If our team has to rearrange furniture to clear a path for appliance removal, we will be sure to put everything back as it was in perfect condition. Your home will look exactly the way it did prior to our arrival minus those pesky appliances you want to be removed!
Pricing That Fits Your Budget
Part of the reason we are one of the most trusted local junk removal outfits is our budget-friendly pricing. We don't want clients to stress about the financial aspect of removing unwanted appliances from their homes. Our rates are among the lowest in town. These low rates do not mean low quality either. When you work with Sarasota Junk Removal, you are getting top-notch service at an affordable price.
We also have running specials on our appliance removal services. You can find available coupons on our site or ask one of our staff members if there are any specials when you call to get a free quote. We are here to help you get appliances and removed from your home, not to bog you down with expensive rates.  
Free Up Space and Remove Excess Junk You Don't Need
Are you ready to give your home more space? Are you excited about getting rid of unseemly furniture or items that you simply don't use? We're ready to help!
Give our team a call, fill out our contact form, or send us an email and we'll get to work putting together a quote for your junk removal services.
Together, let's help you free up space and rid yourself of unwanted clutter.
Safe, Environmentally-Friendly Disposal
We understand that you want to dispose of your appliances in an ethical way that is good for the environment. Our team handles disposal with the utmost care and will recycle or dispose of appliances based on their category in ways that bring the least harm to the environment. We have specialized knowledge of local Sarasota County disposal regulations for appliances. If you have any questions, please ask one of our representatives about our disposal methods when setting up your quote.