Get Rid of Unwanted Furniture
When you're a home or business owner, "stuff" seems to accumulate. You might find yourself with a build-up of knick-knacks, odds and ends, or worst of all, furniture. If this sounds like you, figuring out how to find the time and energy to rid yourself of that unwanted furniture can seem daunting.
The good news is that a junk removal team can help you out. And, there's no better furniture removal team than the experts at Sarasota Junk Removal. We've been helping locals get rid of excess, old, or unused furniture for years. We know how to help you free up space from unwanted junk.
If you're ready to get started with a junk removal team that gets the job done, you're in the right place. Get in touch with our team, and we'll help you set up furniture removal services today!
The #1 Furniture Removal Team in Sarasota County, FL
Let's Make This Easy.  Say Goodbye To Junk Furniture.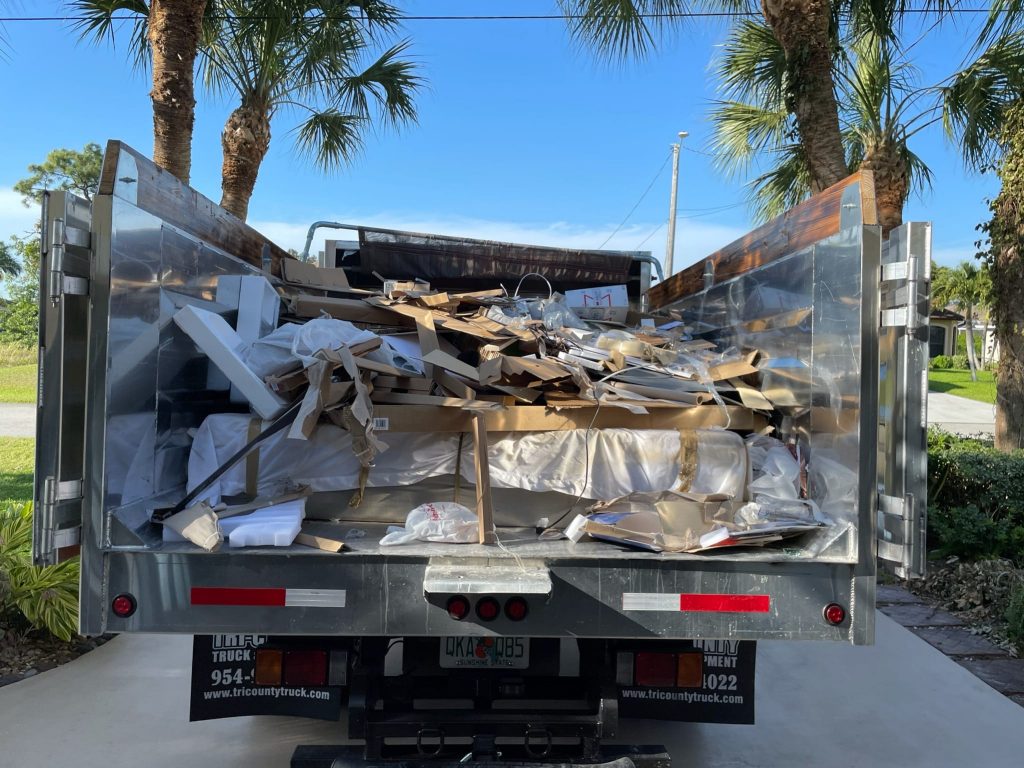 Removal Services for Every Kind of Furniture
There are so many different types of furniture that you might need to get rid of. And, usually, that furniture is bulky or oddly shaped, making it tough to remove. The good news is that the team at Sarasota Junk Removal helps you get rid of any size or shape furniture that you have.
Contact Us
Bedroom Furniture
Bedroom furniture can be extremely difficult to move. It's often heavy and requires disassembly to get it out the door. If you need to remove a mattress, box spring, or bed frame, we've got you covered. We'll also remove dressers, armoires, vanities, and other pieces of furniture in your bedroom. No matter what you need to be removed, we'll get it cleared out for you.
Office Furniture
Are you ready to move your office to a new location? Or, is it simply time to update your old office desk and trade it in for a new one? If so, we'll help you clear out your old office desk and bookshelves. Any piece of office furniture is fair game, and we'll make sure to get your space cleaned out so that you can work more comfortably.
Living Room Furniture
Do you have an unsightly couch you need to swap out? Are you getting ready to rid your living room of that uncomfy recliner you've been hanging onto for years? Don't worry! Our experts will help you remove and dispose of couches, sofas, recliners, chaise lounges, and more. Give us a call, and let's make your living room more liveable!
Miscellaneous Furniture
Just because we haven't named a piece of furniture doesn't mean we don't remove it. If you've got miscellaneous furniture or odds and ends that you want to get rid of, you can give us a call, and we'll take care of it. We'll make sure to take care of any heavy, large, or awkwardly shaped furniture so that you don't have to!
Kitchen and Dining Room Furniture
Sometimes it's time to give your kitchen a facelift. Part of that means getting new furniture that matches your decor and lets you cook up delicious meals. If you need help removing hefty kitchen appliances or a kitchen table and chairs set, we're here to help! Sarasota Junk Removal can step in and get unwanted furniture out of the way for you in no time.
A Professional and Reliable Waste Removal Team
When you hire a junk removal team, you want to know that you're working with a team that can get you taken care of. After all, you don't want to have to worry about those unsightly materials on your property anymore. When you hire Sarasota Junk Removal, you know that we'll help you get rid of all unwanted furniture on your property. And, we always get the job done within the agreed-upon timeframe.
What's more, we're a highly professional team. Giving us a call means being greeted by a friendly and attentive staff member. Our goal is to make sure that we get your junk cleared off your property so that you can start enjoying your new furniture or your newly opened space. With us, you're getting professional services that you can count on to get you taken care of.
On top of that, we have specialized knowledge of local disposal regulations. When you work with us, you know that we're disposing of your old furniture properly including repurposing if it is an option. By working with us, you steer clear of any risks and make sure that your waste is going where it should!
Step One: Reach Out to Our Team
To get started removing any piece of furniture that you no longer need or want, all you need to do is reach out to our team. We're available by phone, email, or contact form. That way, you're able to speak with us in whatever way is most convenient. No matter how you choose to get in touch, we'll help you set up a time for us to remove your furniture.
Step Two: Get a FREE Quote for Services
Next, our team will gather more information about how much furniture you're wanting to remove as well as the size and weight of it. We'll ask you for measurements so that we know exactly what tools we'll need to bring in order to get it cleared out of your space. From there, we'll put together a 100% free quote for services.
Step Three: Furniture Removal
After a price is determined, it's time for us to head to your home and get rid of your furniture. Our team works quickly and efficiently to remove every piece of unwanted furniture from the home. From there, we load it into our track and get it cleared out of your spaces for you. We handle the disposal of your furniture so that you don't have to worry about it!
We're Your First Choice for Furniture Removal in Sarasota County, Florida
When Sarasota County locals need help removing unwanted furniture, they know that they can count on the experts at Sarasota Junk Removal. That's because we've been helping homeowners and business owners alike to remove the furniture they no longer need for decades.
On top of that, our excellent track record means that residents know we're a reliable team. They can count on us to not only get the job done but to get it done right. Get in touch with our team and set up a time for our experts to come and clear out your unwanted pieces of furniture. We guarantee you won't be disappointed.
At Sarasota Junk Removal, we believe in finishing what we started. We'll never leave a job site until the job is completely done. That means that when we head to your home, you know that we'll end the day with the furniture you need to get rid of out of your spaces.
We also offer you a safety guarantee. That means that you know that no other furniture or belongings will be damaged during the removal process. Our team takes extra precautions to move any furniture that was rearranged back into place after the removal. That way, we leave your home looking just as it did when we started –– just without the presence of the unwanted furnishings!
Sarasota Junk Removal is committed to providing customers with low-cost junk removal services. We're here to ensure that all of our clients can get their items removed from their spaces without having to break the bank. That's why we offer some of the lowest rates in the business.
Our team is constantly running specials, too. That way, we can help you save even more money on your junk removal services! We'll let you know of any savings or coupons that you can take advantage of. After all, we're here to help make sure you get your furniture out of your home at the best possible price.
Free Up Space and Remove Furniture You Don't Need
Are you ready to give your home more space? Are you excited about getting rid of unseemly furniture or items that you simply don't use? We're ready to help!
Give our team a call, fill out our contact form, or send us an email and we'll get to work putting together a quote for your furniture removal services.
Together, let's help you free up space and rid yourself of unwanted furnishings.