All Inclusive Services
Renovating or adding to your home is an exciting time. What's not exciting is all the building materials and construction waste leftover once the project is finished! After undergoing a rebuild, you're often left with piles of debris that you have to figure out how to get rid of. It can be tough to not only find the time to remove it but to find a place where you're allowed to dispose of it.
The good news is that if you're in this position, you have options. And, the best of those options is to call the experts at Sarasota Junk Removal. Our team dispatches to your home and helps you clear away all the construction materials and building waste that's left over after your home renovations.
If you're ready to get rid of that unwanted waste, we're here to help. Our brand new fleet of waste removal trucks gets in and out of your location in no time at all. Simply give us a call, and we'll get to work clearing away any debris and rubbish leftover after a remodel or construction.
Clear Away Post-Construction and Remodel Debris
You've already got a project. We'll clean up the mess.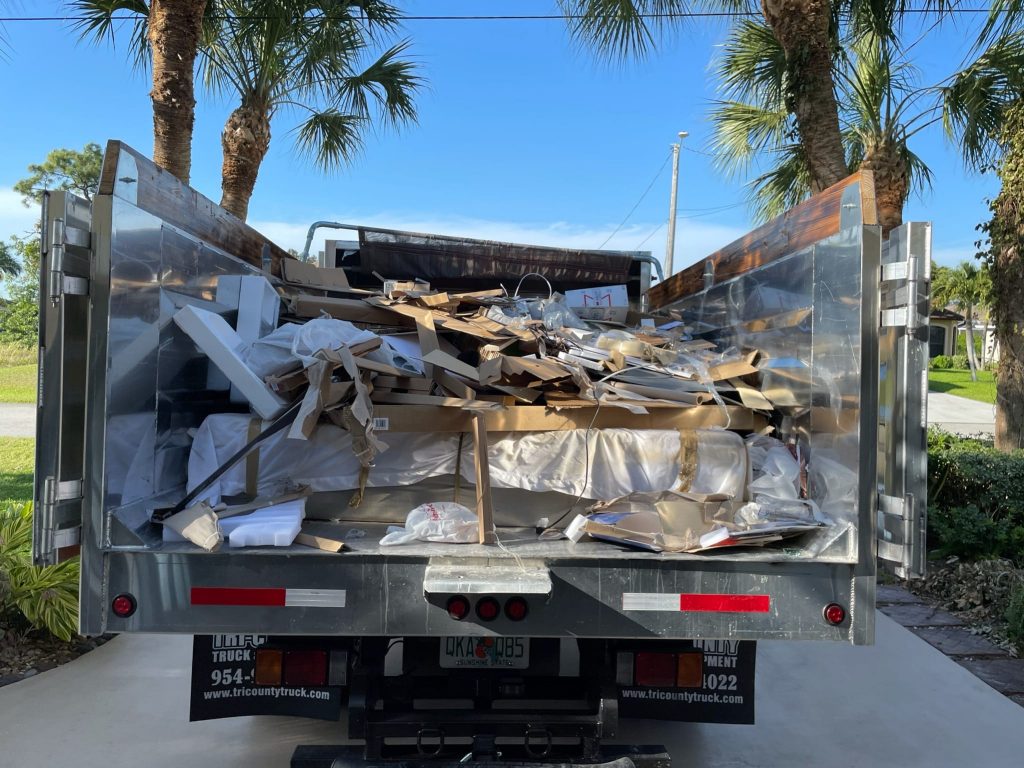 Clean Up for Every Type of Construction Waste
There are so many different types of debris and waste that accumulate after a remodel, home renovation, or construction job. At Sarasota Junk Removal, we make sure to provide you with removal services for any type of project that you've been working on.
Contact Us
Carpet and Flooring Removal
Are you tearing up old carpeting or redoing your floors? These projects, while leaving your home beautiful, can also leave piles of unusable flooring materials. If this sounds like you, the team at Sarasota Junk Removal can help you clear away these materials so that you can start enjoying your new flooring.
Drywall Removal
Any remodel that involves knocking out or tearing down walls also typically involves large amounts of drywall. If you've got piles of excess drywall laying around, you need to make sure you properly dispose of it. Sarasota Junk Removal has the equipment needed to take these materials off your hands and dispose of them according to local guidelines.
General Construction Material Removal
Do you have miscellaneous construction or remodel debris that you need to get off your hands? Not to worry! Sarasota Junk Removal helps you remove every type of construction material you can imagine. With us, no type of remodeling debris is off the charts. Count on our team to get all your construction waste out of your way!
Roofing Material Removal
One of the most common home remodels and renovations is redoing your roof. Whether you've got excess shingles or piles of slate lying around, we're here to help. Sarasota Junk Removal will help you clear away any type of roofing material that you need to dispose of. We'll get it off your hands and make sure to dispose of it according to local guidelines.
Glass removal can be treacherous. It's full of sharp edges that can easily cut your fingers and leave you with bruises and scrapes. Using a junk removal team like the experts at Sarasota Junk Removal helps you avoid injury and still remove the glass from your property. Plus, we'll make sure that it gets recycled so that you can help treat the environment right!
Bathroom and Kitchen Remodel Waste Removal
After redoing your bathroom or kitchen, you're left with some very specific types of debris. You'll usually have to deal with piping and plumbing materials. You might also have piles of wiring that you no longer need. These can be especially difficult to figure out how to deal with. To get rid of these types of materials safely, just call Sarasota Junk Removal, and we'll take care of it!
Granite and Heavey Stone Removal
Removing heavy stone such as marble, granite, and other materials used for countertops or flooring can be tough. It requires a great deal of heavy lifting and often means that you need to have special equipment to move it! At Sarasota Junk Removal, we'll help you get these types of materials off your property with ease.
A Professional and Reliable Waste Removal Team
When you hire a junk removal team, you want to know that you're working with a team that can get you taken care of. After all, you don't want to have to worry about those unsightly materials on your property anymore. When you hire Sarasota Junk Removal, you know that we'll help you get rid of all construction wastes on your property. And, we always get the job done within the agreed-upon timeframe.
What's more, we're a highly professional team. Giving us a call means being greeted by a friendly and attentive staff member. Our goal is to make sure that we get your junk cleared off your property so that you can start enjoying your remodel or newly built home. With us, you're getting professional services that you can count on to get you taken care of.
On top of that, we have specialized knowledge of local disposal regulations. When you work with us, you know that we're disposing of your construction waste properly. Failure to do so can result in fines or other unwanted consequences. By working with us, you steer clear of any of those risks and make sure that your waste is going where it should!
Step One: Reach Out to Our Team
To get started working with Sarasota Junk Removal's experts, all you need to do is get in touch. We offer you several ways of reaching us, including phone, email, and a contact form. Regardless of the way you choose to contact us, we'll make sure to get you set up and on the schedule for the junk removal services that you need.
Step Two: Get a FREE Quote for Services
After you've spoken with a team member, we'll help set you up with a quote. Our team will ask questions about the amount of construction material you need to remove. We'll also check to see what type of material we'll be disposing of. Armed with that information, we'll put together a quote for services that gets you the lowest rate possible.
Step Three: Remove Your Construction Waste
After a price is determined, it's time for us to head out to your location and get your property cleaned up! Our team will bring all the necessary tools and removal equipment so that we can clear your property. We make sure to remove every piece of junk during the pre-agreed timeframe. And, we'll handle disposal for you, too!
We're Your First Choice for Construction Debris Removal in Sarasota County
When Sarasota County residents and business owners need help removing waste after a construction project, they know that they can count on the team at Sarasota Junk Removal. We've been providing exceptional service to locals for years, which is what's helped us to build such an outstanding reputation in the area.
When locals work with a construction and remodel waste removal team, they know that Sarasota Junk Removal is the best. We'll always provide you with the type of fast, reliable, and professional service that you deserve. Give our team a call and know that you're working with the area's #1 choice for construction material removal.
At Sarasota Junk Removal, we're committed to providing our clients with outstanding service. We guarantee that we'll get your property cleaned up and cleared out no matter what. Regardless of how big or small the job is, you can rely on our 100% service guarantee and know that your property will soon be debris-free.
Working with our team means working with one of the most affordable junk removal services in the area. We keep our prices as low as possible, offering competitive rates for any construction or remodeling waste removal.
Remove Construction Waste and Remodel Debris from Your Property
Are you ready to clean up your property and free yourself of the construction and remodeling debris that's plaguing you? Reach out to the team at Sarasota Junk Removal, and we'll help you get rid of any debris.